StayDry News
Increasing Demand for Adult Diapers in the Developing World
Posted February 22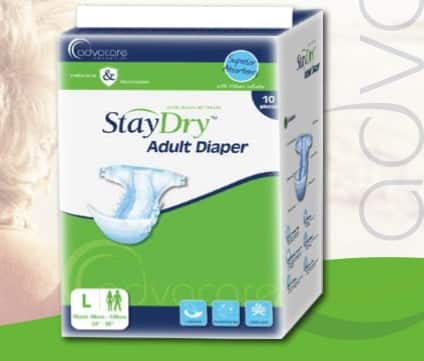 What is Urinary Incontinence?
Urinary incontinence (UI) is a health condition that involves the loss of bladder control, and it usually involves the accidental leakage of urine. This can happen when you have a sudden urge to urinate when you cough or sneeze. Urinary incontinence can be an embarrassing problem, but it does not have to be one. Urinary incontinence can happen to everyone and can be easily managed. It is twice as common to occur in women and becomes more common with older age. Treatment options include lifestyle changes, bladder training, physical therapy, medications, surgery, or medical devices. According to the Urology Care Foundation, about 1 in 3 adults deal with bladder control problems. This is especially the case for women due to pregnancy and childbirth. Other conditions that affect bladder control include diabetes, obesity, and old age.
Using Adult Diapers
Adult diapers, also commonly known as incontinence briefs, are one of the best options to manage urinary incontinence. Adult diapers are discretely worn like underwear to absorb any urinary or fecal leakages. They can be worn for various health conditions, including incontinence, mobility impairment, diarrhea, and dementia. Adult diapers are most commonly worn for urinary or fecal incontinence where patients are unable to control their bowels and bladders. Adult diapers come in various sizes for the most comfortable and optimal fit. They can also be worn during the day or night to provide absorbency and leak control.
Adult Diapers in the Developing World
Urinary incontinence often goes undiagnosed in the developing world. Even though, it is a problem that can be easily managed with adult diapers or briefs. Due to the lack of medical support in the developing world, many do not have access to such incontinence products. There is high opportunity and unmet demand for incontinence products for countries in Africa and Southeast Asia. With celebrities endorsing incontinence products in the United States, wearing adult incontinence products have become more normalized and accepted in developed countries. Though, adult diapers and other incontinence products are uncommon and not widely accepted in the developing countries
The Growing Adult Diaper Market
Aside from diapers, the incontinence market comprises mainly of colostomy bags, under pads,urinary bags, and other devices. Globally, the adult diaper market is growing faster than any other paper-based household product. Grand View Research predicts the incontinence product market to reach 17,184.2 million by 2020. Demand for adult incontinence products is rapidly growing in both the developed and developing world. In the next five years, experts predict a 48 percent increase in the adult diaper market. Meanwhile, the baby diaper market will grow 2.6 percent. If growth continues to rise at this rate, the adult diaper market will eventually surpass the infant diaper market. The U.S. Euromonitor International predicts the market to increase to $2.7 billion from $1.8 billion last year. With birthrates falling and lifespans lengthening, the adult diaper market will continue to grow expand. Babies grow out of diapers at one point, but adults with incontinence do not grow out of diapers.
About Us
StayDry Incontinence Products manufactures affordable, high-quality adult diapers and incontinence products with CE, ISO, and USFDA certifications. StayDry aims to provide incontinence products to meet the unmet incontinence demands of the developing world. Our adult diapers provide the greatest mobility and comfort for those with incontinence. With our innovative and effective technology, StayDry Adult Diapers are guaranteed to keep you active, confident, and dry. Looking for an adult diapers manufacturer? Inquire with us today if you are interested in distributing our incontinence products.