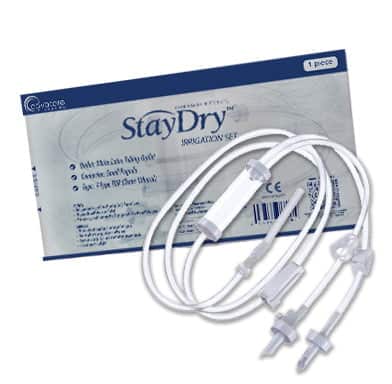 Type
Y-Yype TUR (Trans Utheral)
Four Lead TUR (Trans Utheral)
Two Lead TUR (Trans Utheral)
Four Lead Arthorscopic Type
Cysto/Bladder Straight Type
Y-Type TUR (Trans Utheral)/Bladder
Outlet
Connector
Tubing and Clamps
Latex Connection Tubes w/ Medical Clamps
Latex Connection Tube w/ Roller Clamps
CE is an abbreviation for Conformite Europeenne (European Conformity) and the mark indicates that all the requirements for the specific product meet the European standards and that it has been tested and allowed to enter the European market.

Learn more: http://ec.europa.eu/growth/single-market/ce-marking/

ISO (International Organization for Standardization) 13485:2003 standard represents the quality management system for design and manufacturing of medical devices; it was published in 2003. This international certification requires the manufacturer the quality system of the facilities.

Learn more: http://www.iso.org/iso/catalogue_detail?csnumber=36786

FDA (the Food and Drug Administration) is an agency of the United States responsible to protect and regulate public health products, such as medical products, tobacco, food, veterinary medicines.

Learn more: http://www.fda.gov/
About Our Irrigation Set
Why StayDry?
Consumer Tips
StayDry™ Irrigation sets are a very important tool which provides ultimate comfort to patients during various medical interventions. There are 3 major types of irrigation performed during medical interventions which are bladder irrigation, bowel irrigation and wound irrigation. Such a crucial part of the medical field is manufactured by USFDA approved manufacturer Advacare. Quality of this irrigation set is governed during online manufacturing by standards that are prescribed by CE certification authority and ISO. The StayDry™ brand of Irrigation Set, manufactured in different types as per the requirement of medical procedure.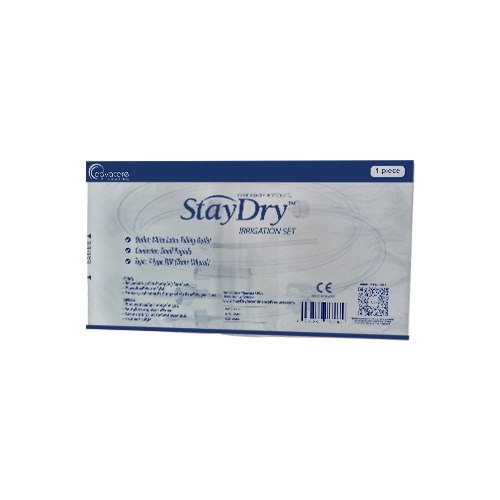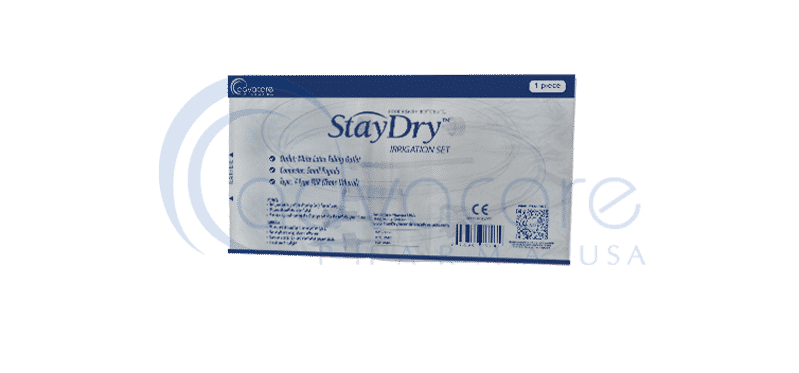 Why Our Irrigation Set?
StayDry™ irrigation sets are a choice of various paramedical staff and medical professionals because of its standard quality and ease of operation.
These sets are manufactured by following CE, ISO and USFDA guidelines hence it comes to perfection in terms of its design and packing. AdvaCare has a wide supply chain network for its products in more than 65 countries. All these factors lead to the choice of StayDry™ Irrigation sets over other competitors.
How to use the Irrigation Set?
1 – Gently open the package by using the standard aseptic technique.
2 – Connect female connectors of a suction tube to a suction canister, then set a suitable suction force.
3 – Gently insert the spikes into the irrigation bags. If only one irrigation bag is to be used, take steps to clamp the unused irrigation tube  together with the occlusion clamp, which has to be done as to eliminate the loss of irrigation fluid.
4 – Hang the irrigation bags about 1 meter above the patient.
5 – Open the clamp of one of the irrigation bottles, then depress the blue button on the handle to open the irrigation valve and irrigation line.
6 – Gently insert the irrigation cannula through the trocar and advance it to the area of irrigation.
7 – Depressing the blue button opens the irrigation valve, and releasing it closes it automatically.
After irrigation is completed, gently remove the cannula through the trocar.
FAQs
Q:
Can you reuse a StayDry Irrigation Set?
A:
StayDry irrigation Sets are for single use only.
Q:
Can these sets be used for procedures in children?
A:
We can use these sets for irrigation purpose in children during various medical interventions.
Q:
What do we need to do if a patient shows any undesired side effect after using this irrigation set?
A:
You need to call paramedical staff and a medical practitioner to stop the procedure. Never try to stop the procedure by yourself.
Q:
Does a warm irrigation solution disrupt the internal structure of Irrigation set?
A:
Irrigation set can withstand temperatures around 37-40ºC (100 - 105ºF) hence its internal structure will not be damaged. Higher temperatures can harm not only the product itself but also patient.