ABOUT OUR COLOSTOMY BAG
WHY StayDry
CONSUMER TIPS
StayDry Colostomy Bags are an essential appliance for patients who have undergone a colostomy or similar medical procedure. Simple to use and dependable our StayDry Colostomy Bags are water and air tight, are available in a wide range of highly configurable configurations that provide peace of mind and flexibility in everyday life and are sold at an affordable price to effectively meet the demands of our international distributors.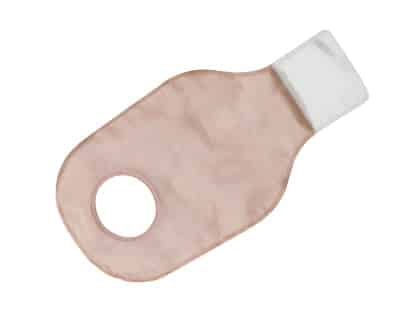 A colostomy bag (also called ostomy bag or ostomy pouching system) is a waste collection unit designed to be worn on the body by people who have undergone invasive surgery affecting the large intestine. At StayDry we believe that colostomy bags should still allow you to remain active and look good doing it. To this end we have designed a large range of customizable colostomy bags to fit your daily schedule. Available in both one-piece and two-piece configurations StayDry Colostomy Bags have an option to meet any scenario.
StayDry Colostomy Bags provide greater peace of mind and comfort compared to competing brands. What sets StayDry Colostomy Bags apart from our competitors?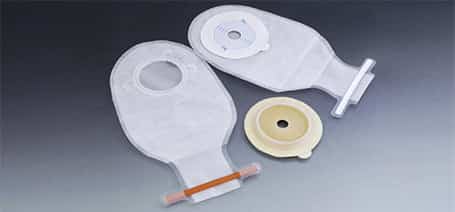 Colostomy bags are the best method to eliminate feces from patients who have undergone colon surgery, or have endured other relevant injuries. With our highly resistant CO-EX film, secure waterproof bag, and odor-absorbing filter our consumers can confidently and comfortably carry out every day activities while wearing a colostomy bag.
In order to effectively use StayDry Colostomy Bags, please refer to the changing instructions.
What is the difference between a one-piece and two-piece bag?
Our StayDry Colostomy Bag is a medical device that provides a means to collect waste for colostomy patients.
StayDry Colostomy Bags are safe and secure with the advanced one-piece or two-piece pouching systems.
The one-piece system combines the bag and the skin barrier in one device in order to provide patients with an easy and comfortable wearing and changing experience.
The two-piece system allows the patient to conveniently change the bag without having to remove the skin barrier. Both systems are either drainable or for one-time use; prevent the patient from experiencing embarrassing leaks; and protect the surrounding skin from contamination.
ISO, CE, and USFDA certified, these quality bags are waterproof, easy to empty, and made of a highly-resistant CO-EX film. For patients that are concerned about embarrassing odors, our bags have an odor-absorbing filter that reduces odor by releasing wind to avoid making the bag inflate. These advances allow for daily activities to not be interrupted with the use of a colostomy bag.
StayDry Colostomy Bags are also comfortable enough to be used in clinics, hospitals, or for home use.
How to Change a Colostomy Bag?
HOW TO CHANGE A COLOSTOMY BAG
1

Wash around the stoma with a warm soapy rag for sanitary reasons and to allow the colostomy bag to stick better. In order to properly stick, the area around the stoma must be clean and dry.

2

Shave about 2 inches around the stoma for sanitary reasons and to relieve some of the discomfort caused by removing the sticky wax bag. Even when you shave, you will still feel some hair pulling when removing the bag, but it is much less painful than with unshaven hair.

3

Look in the box that contains the new colostomy bag for cardboard holes. Also, look for the sizing holes in order to find the right wax to fit your particular stoma. Choose one that fits snuggly around your stoma

4

Cut the excess wax away from the end of the colostomy bag. Use the cardboard hole as a guide. You can just use your ostomy scissors for this step.

5

Remove the adhesive backing and stick the wax colostomy bag around the stoma. You will use a very thin line of stoma paste around the outside edge of the wax. This serves as a seal for moisture. However, you don't want to use too much, because it prevents wax adhesion.

6

Center the pouch over the stoma, and press it firmly on the clean, dry skin. Hold your hand on the pouch for 30 seconds. The warmth of your hand can help stick the adhesive skin barrier into place.

7

If the bag is a drainable system, clamp the opening at the bottom of the colostomy bag. Drainable colostomy bags have a hole at the bottom for easier emptying and cleaning. Of course, this hole must be clamped so its contents do not leak.
How To Drain a Reusable Colostomy Bag
1

When the bag is 1/3 to ½ full, it is time to empty. Do not wait until the pouch is completely full, because it could put pressure on the seal and cause it to leak or spill.

2

Hold the pouch up by the bottom end. If the pouch has a clamp system, remove the clamp. Roll the end to keep it from getting soiled

3

Place toilet paper into the toilet before you empty the pouch to reduce splash back. Drain the pouch by squeezing the contents into the toilet.

4

With toilet paper or a moist paper towel, clean the end of the pouch. You may also rinse the pouch but it is not necessary.

5

To close the end of the pouch, unroll the end of the pouch, and replace the clamp or close the end of the pouch according to your caregiver's instructions.
FAQs
Q:
What is the difference between the one-piece Colostomy bag system and the two-piece system?
A:
The one-piece system combines the bag and the skin barrier in one device while the two-piece system allows the patient to change the bag without having to remove the skin barrier.
Q:
Are StayDry Colostomy bags only limited to hospital use?
A:
No, our bags can be used in clinics or for home use.
Q:
How often should I change my colostomy bag?
A:
It depends on the system. For the one-piece system, it should be changed daily. For the two-piece system, it should be changed after 2-5 days. However, the skin barrier should be changed once or twice a week.
Q:
What is the difference between the drainable colostomy bag and the disposable one?
A:
Drainable colostomy bags are open ended and sealed with a clamp, clip, press and seal, or velcro. They are simple to empty and wash. They are designed for those with frequent discharge, those with resection of the upper colon, or those who can irrigate. Drainable colostomy bags should be emptied when half-full. Disposable colostomy bags are for single use. They are meant to be removed and disposed of once they are full. Disposable colostomy bags cannot be emptied. They are aimed at those with less discharge.
Q:
If I see blood on my wash cloth when I change my bag, should I worry?
A:
You should not be worried if you see blood on your wash cloth when changing your bag. Having a small amount of blood is not alarming and it is normal because you clean over the stoma. However, if you have blood in your stools, then you should contact your doctor in order to better ensure your health and safety.
Q:
What do I do about decreasing gas while wearing my colostomy bag?
A:
If you want to decrease gas you should change your diet. It is preferable to avoid food and beverages that cause gas such as onions, cabbage, beans, carbonated drinks, and chewing gum. Eating slowly and using a straw can help decrease gas. It is also possible to get charcoal filters in order to reduce gas for the colostomy bag.
Q:
Can I take a shower with my bag on? Can I go swimming?
A:
Yes, you can take a shower or go swimming with your colostomy bag. Our bags are waterproof. However, for optimum cleanliness, it may be best to shower in the morning (before eating and drinking) with the bag off. If you plan to be underwater for more than 10 minutes, please use waterproof tape at the edges so the bag will be more secure. Also, when swimming, you may place the bag horizontally. The spandex from the swimsuit will hold the bag in place. For men that wear board short swim shorts, it would be best of wear a tight pair of swim trunks underneath in order to hold the bag in place.
Q:
What can I do to increase wear time of my colostomy bag?
A:
In order to wear your colostomy bag for a longer period of time, you can wear an ostomy belt. This belt will add more support which will allow you to wear your bag for a longer period of time. However, for more options to increase the wear time, it is better to ask to your ostomy nurse for more suggestions.
Q:
Will people be able to smell my colostomy bag?
A:
If your bag is clean and has a snug fit around the stoma, then no one will be able to smell it.