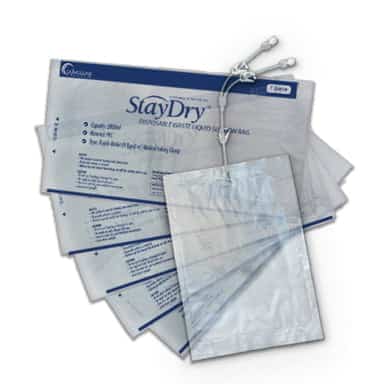 Type
Material
Capacity
Features
CE is an abbreviation for Conformite Europeenne (European Conformity) and the mark indicates that all the requirements for the specific product meet the European standards and that it has been tested and allowed to enter the European market.

Learn more: http://ec.europa.eu/growth/single-market/ce-marking/

ISO (International Organization for Standardization) 13485:2003 standard represents the quality management system for design and manufacturing of medical devices; it was published in 2003. This international certification requires the manufacturer the quality system of the facilities.

Learn more: http://www.iso.org/iso/catalogue_detail?csnumber=36786

FDA (the Food and Drug Administration) is an agency of the United States responsible to protect and regulate public health products, such as medical products, tobacco, food, veterinary medicines.

Learn more: http://www.fda.gov/
About Our Liquid Suction Bag
Why StayDry?
Consumer Tips
StayDry™ Disposable Waste Liquid Suction Bags are manufactured in various configurations with different capacities. During various types of surgical procedures, it is observed that surgical waste is accumulated near the operation site. This surgical waste is mostly composed of blood, plasma, interstitial fluids or body fluids. It is important therefore to manage waste fluid and collect it as cannot be disposed of as it is – It needs chemical treatment before it can be disposed of as medical waste in regular biomedical waste containers. This method is time-consuming and cumbersome. StayDry waste liquid suction bag proves to be very useful for this purpose.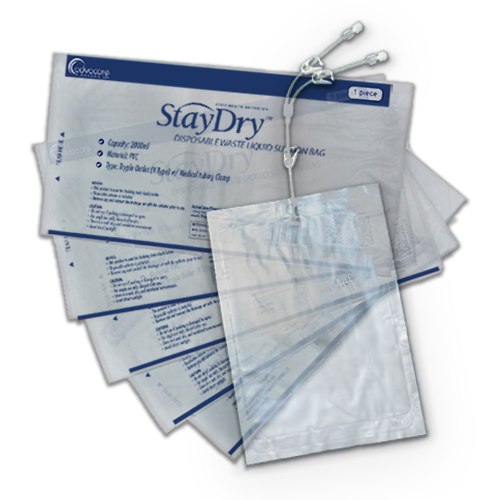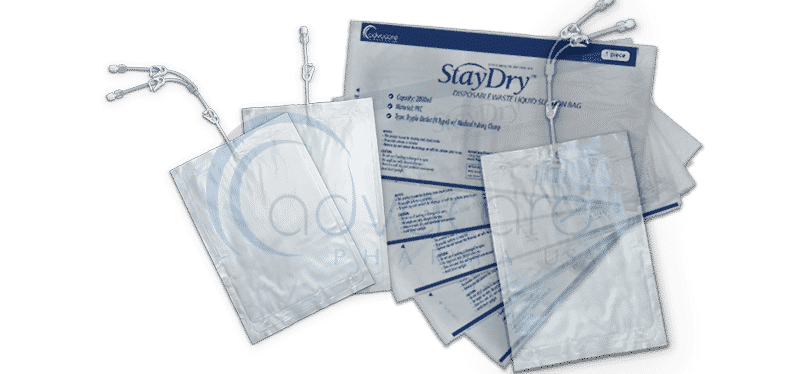 Why Our Disposable Waste Liquid Suction Bag?
StayDry™ Disposable Waste Liquid Suction Bags are manufactured by USFDA approved Advacare which has a very extensive supply chain network in different types of market. This product conforms with various guidelines hence proved the safest and convenient tool for collection of waste liquid during various surgery procedures. Our waste liquid suction bags are manufactured in accordance with CE certification and ISO standards with premium medical grade PVC. Cost of using these bags are very less as compared to hard containers and hardening machines.
How to use Liquid Suction Bags?
1 – First, carefully unfold the suction bag and place it into the suction canister.
2 – While lightly pressing the middle of the lid, turn on the suction, then wait until the bag fills with air and adjusts to the canister's shape.
3 – Make sure to close the patient connector so the lid tightens to the suction canister, creating a seal.
FAQs
Q:
Can you recuse StayDry Liquid Suction Bags?
A:
StayDry waste Liquid suction bags are not reusable. Thes bags need to be disposed as per healthcare facility safety procedures after their use.
Q:
Can these bags be used for both male and females patients?
A:
These bags can be used for either male and female patients.
Q:
Do these bags need pre-sterilization before using?
A:
These bags are manufactured under a controlled environment and in a gas sterilized package. Hence no pre-sterilization is required.
Q:
Can these bags be used with pediatric patients?
A:
Yes we can use these bags in pediatric patients.