About Our Bed Sheets
Why StayDry?
Consumer Tips
StayDry™ Disposable Bed Sheets provide a convenient, effective and affordable solution for the maintenance of sanitary conditions in a variety of different environments for patients suffering from incontinence. Compared to other brands, StayDry Disposable Bed Sheets are extra thick offering a premium level of comfort at an affordable price designed to meet the specifications of our Disposable Bed Sheet distributors in the developing world.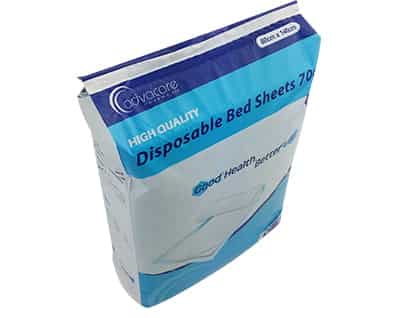 A disposable bed sheet is a bed sheets made to be temporarily placed over surfaces such as tables and bedding in order to protect them from undesirable fluids. We recommend that StayDry Disposable Bed Sheets be used to guarantee that surfaces used in sterile conditions remain clean in order to reduce the risk of infections from bodily fluids, spills and other undesirable materials. StayDry Disposable Bed sheets are made in various sizes and dimensions to best suit your needs.
StayDry Disposable Bed Sheets are extra thick. Made from polypropylene they offer superior absorbent properties compared to competing brands. We believe that StayDry should be your brand of choice because: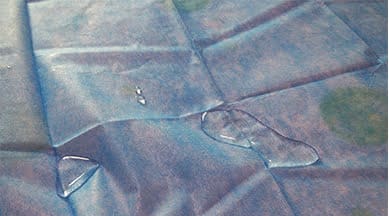 StayDry does not compromise on quality. We guarantee the most affordable, comfortable bed sheets available internationally.  Our effective multi-layered design coupled with ISO, CE and USFDA certified manufacturing techniques means that StayDry Bed Sheets ensure that messy and unnecessary clean ups are eliminated at an affordable price. Compared to competing brands our Bed Sheets offer outstanding absorbency, a larger selection of choice in sizes and unbeatable customer service for an affordable price making StayDry the brand of choice in medical institutions in the developing world.
How to Change a Disposable Bed Sheets ?
HOW TO CHANGE A BED SHEETS
1

Remove the cover. Take off the top cover of the bedding and place aside.

2

Remove any additional sheets. Pull off any existing sheets such as a flat or fitted sheet and place aside.

3

Apply the StayDry Disposable Bed Sheets. Place a new clean disposable bedsheet over the bed stretching it to each of the four corners. For elastic banded sheets pull the sheet over the corners starting with the most difficult to reach corners. Pull the sheet at each corner to ensure it covers the mattress evenly.

4

Remove the StayDry Disposable Bed Sheets. Carefully remove the sheet from each of the four corners. Move all corners of the Disposable Bed sheets into the middle of the bed to ensure that no liquid escapes. Dispose of in appropriate waste receptacle.
FAQs
Q:
Why StayDry disposable bed sheets?
A:
In a StayDry disposable bed sheets you'll find American quality at Chinese prices. All of our StayDry disposable bed sheets are CE, USFDA and ISO certified to guarantee safety and satisfaction for all our customers. You won't find any other disposable bed sheets with more legitimate value for such low cost.
Q:
In what situations would one use a disposable bed sheets?
A:
Affordable, disposable sheets are widely used in clinics, hospitals, senior living facilities and homecare for incontinent people. Beauty salons and hotels, and other businesses frequently employ disposable bed sheets to avoid doing laundry and to dramatically cut costs associated therein.
Q:
Can a StayDry disposable bed sheet be used more than once?
A:
These bed sheets are only effective as one-time use products. Given that they are disposable by nature and highly affordable, they are designed to be used only once.
Q:
What substances are StayDry disposable bed sheets effective against?
A:
StayDry disposable bed sheets are effective in protecting against a wide range of unwanted and harmful substances. Most commonly, they are used to protect against blood, urine, excrement, sweat, skin follicles, sexual fluids, vomit, saliva and many more.